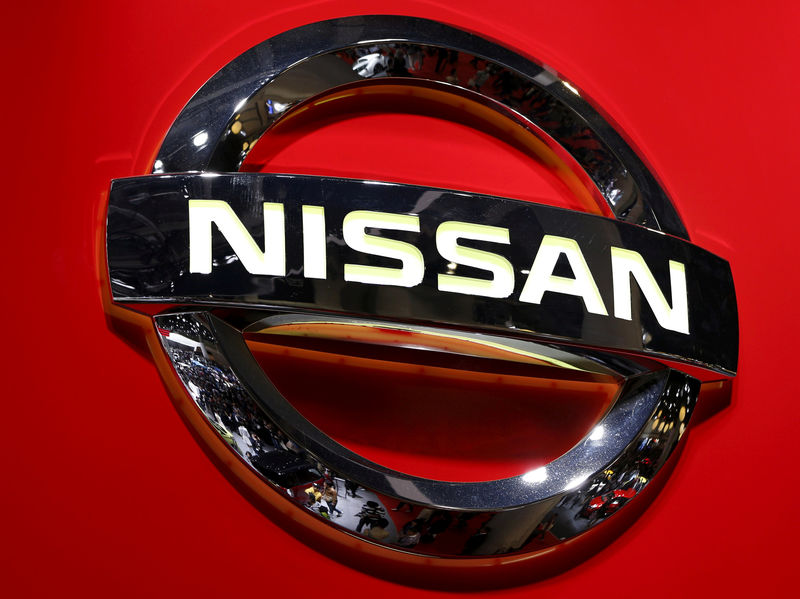 © Reuters. FILE PHOTO – Logo of the Nissan Motor Co. is displayed at the 44th Tokyo Motor Show in Tokyo, Japan
By Nick Carey
DETROIT (Reuters) – Major automakers posted mixed U.S. new vehicle sales in October on Wednesday, though America's love affair with high-margin pickup trucks and SUVs remained in full bloom as larger, pricier vehicles fared better than passenger cars.
General Motors Co (N:GM) reported an overall sales drop of 2.2 percent for the month, with consumer sales down 6.6 percent. High-margin pickup truck, SUV and crossover sales were all up.
GM reduced its inventory of unsold vehicles by 7,000 vehicles to 813,000. The automaker has worked hard to reduce its large volume of unsold vehicles, a source of concern for the market, including through significant production shutdowns in the third quarter. GM had advised its inventory would rise in October.
"We are heading into the fourth quarter with good momentum, thanks to a strong U.S. economy and very strong pickup and crossover sales," Kurt McNeil, GM vice president for U.S. sales operations, said in a statement.
GM slightly reduced consumer discounts as a percentage of the average transaction price, to 13.5 percent from 13.7 percent in the third quarter.
Industry experts believe consumer discounts over 10 percent of the average transaction price are unhealthy as they erode resale values and are unsustainable in the long term.
Industry consultants J.D. Power and LMC said last week that based on preliminary October sales numbers, discounts have exceeded 10 percent in 15 of the last 16 months.
The U.S. auto industry has had a strong run that culminated in record sales of 17.55 million units in 2016. New sales got a strong boost in September as consumers replaced vehicles damaged in southeast Texas by Hurricane Harvey the previous month.
Full-year 2017 sales are expected to be slightly lower than 2016.
Ford Motor Co (N:F) said vehicle sales rose 6.2 percent in October, driven largely by a 15.9 percent jump for its popular, high-priced F-Series pickup trucks. Strong demand pushed the average price tag for an F-Series truck up $4,000 from the previous October to $47,300.
High-margin pickup trucks were a dominant factor in the better-than-expected results Ford posted last week.
On a conference call, Mark LaNeve, Ford's U.S. sales chief, said the upgraded F-Series line "really has been a spectacular success" adding that the market would remain "competitive" through the end of 2017 and into 2018.
Ford's low-margin fleet sales rose 14.6 percent in October.
Toyota Motor Corp's (T:7203) sales rose 5.2 percent in October as strong pickup truck and SUV sales offset a 12.7 percent drop in Toyota sedans and a 27.9 percent slide in luxury Lexus sedans.
Fiat Chrysler Automobiles NV (FCA) (MI:FCHA) (N:FCAU) reported a 13 percent sales decline. Consumer sales were down 4 percent, while fleet sales tumbled 43 percent, in line with the company's strategy to reduce low-margin sales to car rental agencies.
FCA has pushed to sell more profitable SUVs and pickup trucks, which helped lift its North American profit margin to 8.3 percent in the third quarter.
Nissan Motor Co Ltd's (T:7201) sales increased 8.4 percent for the month, driven by a 12.9 percent jump in pickups, SUV and crossover sales. Sales of its popular Rogue crossover model soared 43 percent in October.
But sales at Nissan's luxury Infiniti brand fell 8.1 percent, driven largely by a 16.2 percent drop in luxury sedan sales.
Honda Motor Co Ltd (T:7267) bucked the trend as a 6.3 percent increase in passenger cars offset a 3.9 percent decline in SUV sales for an overall increase of nearly 1 percent.
GM shares were down 0.7 percent at $42.67 while Ford rose 0.8 percent to $12.37 and Fiat Chrysler increased 1.3 percent to $17.58 in U.S. trading.
sponsoredArticle = 'div-gpt-ad-1466339494851-0';