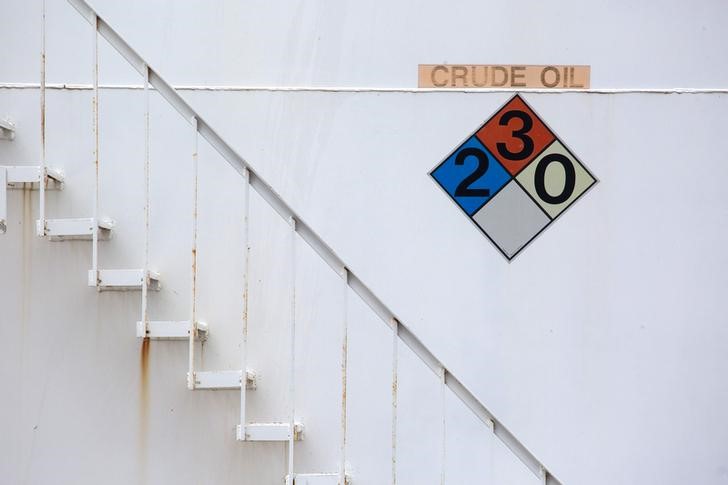 © Reuters. Crude oil prices stay higher after weekly supply data
Investing.com – Oil prices held on to gains on Wednesday, after data showed a sizable decline in U.S. oil and gasoline stockpiles last week.
U.S. West Texas Intermediate (WTI) crude futures tacked on 45 cents, or around 0.9%, to $54.84 a barrel by 10:35AM ET (1435GMT). Prices were at around $55.00 prior to the release of the inventory data. It touched a session high of $55.22 earlier, a level not seen since early Dec. 2016.
The U.S. Energy Information Administration said in its weekly report that crude oil inventories fell by 2.4 million barrels in the week ended October 29.
That compared with analysts' expectations for a decline of 1.7 million barrels, while the American Petroleum Institute late Tuesday reported a supply-drop of 5.1 million barrels.
Supplies at Cushing, Oklahoma, the key delivery point for Nymex crude, rose by 90,000 barrels last week, the EIA said.
Total U.S. crude oil inventories stood at 454.9 million barrels as of last week, which the EIA considered to be at the upper half of the average range for this time of year.
The report also showed that gasoline inventories fell by 4.0 million barrels, much more than expectations for a decline of 1.5 million barrels. For distillate inventories including diesel, the EIA reported a decline of 0.3 million barrels.
Meanwhile, Brent crude futures rose to an intraday peak of $61.70 a barrel, its best level since July 2015, boosted by signs that the Organization of the Petroleum Exporting Countries (OPEC) has significantly improved compliance with its pledged supply cuts.
OPEC's October output declined by 80,000 barrels per day (bpd) to 32.78 million bpd, putting adherence to its pledged supply curbs at 92%, compared to September's 86%.
In addition, Russia said it cut its output by around 300,000 bpd last month, below October 2016 levels of 11.247 million bpd.
Bullish sentiment has been fueled by an effort this year lead by OPEC and Russia to hold back about 1.8 million barrels per day (bpd) in oil production to tighten markets.
In other energy trading Wednesday, gasoline futures inched up 0.9 cents to $1.757 a gallon, heating oil added 0.4 cents to $1.890 a gallon, while natural gas futures slumped 2.4 cents to $2.881 per million British thermal units.
sponsoredArticle = 'div-gpt-ad-1466339494851-0';