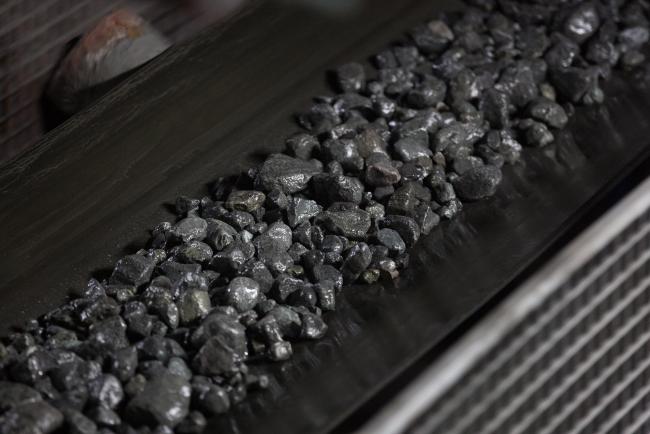 © Bloomberg. Copper-nickel ore moves along a conveyor belt at the Talnakh concentrator plant, operated by MMC Norilsk Nickel PJSC, in Norilsk, Russia, on Wednesday, Oct. 18, 2017. Norilsk Nickel, which mines the rich deposits of nickel, copper and palladium near Norilsk, has spent 2.5 billion rubles ($40 million) to lay fiber-optic cabling in the Siberian tundra.
(Bloomberg) — The nickel market has caught fire, with prices heading for the biggest two-day advance in five years.
Nickel rose as much as 6 percent to $13,030 a metric ton on the London Metal Exchange, the highest since June 2015. That added to Tuesday's 5.3 percent gain after Trafigura Group Pte joined Glencore (LON:GLEN) Plc in unveiling bullish usage forecasts. In Shanghai, prices climbed by the daily limit.
"Such breakthrough has been cooking long, backed by relative value and EVs," Richard Fu, head of Asia Pacific at Amalgamated Metal Trading Ltd., said by email.
Nickel sulphate, a key ingredient in lithium-ion batteries, will see demand increase by half to 3 million tons by 2030, Saad Rahim, chief economist at Trafigura, said in an interview. That echoes bullish views from miner and trader Glencore. Batteries are likely to use more nickel and less cobalt in future, Rahim said in an interview.
Nickel is now up 29 percent for 2017, vying with aluminum for the title of top base metal of the year.
Chinese investors piled into Shanghai futures at the start of morning session, and prices were locked up by the limit just short of 100,000 yuan a ton, the highest intraday level since November.
MMC Norilsk Nickel PJSC, which competes with Vale SA as the world's top nickel producer, has warned that the market may have become too bullish too quickly. The company sees this year's nickel demand from batteries at about 65,000 tons, compared with total usage of 2 million tons, according to Anton Berlin, head of analysis and market development. It will take a few years for EVs to become a significant consumer, he said.
In other metals:
Other base metals also rallied
LME zinc stockpiles fell by the most since mid-July.
sponsoredArticle = 'div-gpt-ad-1466339494851-0';