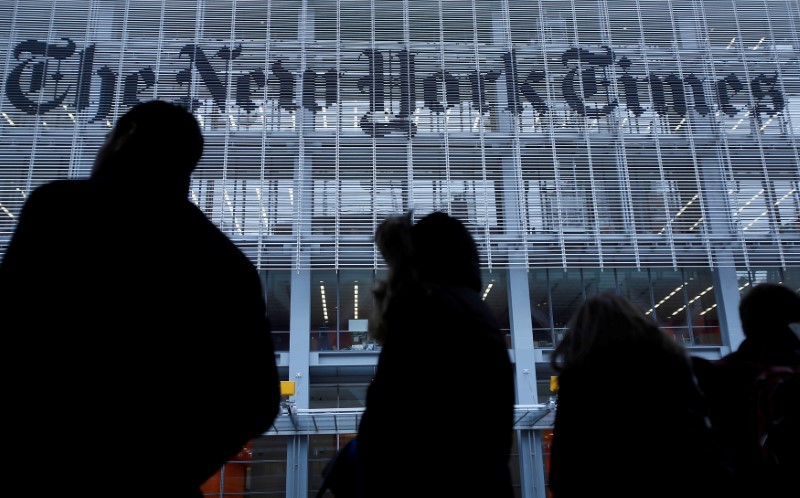 © Reuters. FILE PHOTO: People line up for taxi across the street from the New York Times head office in New York
(Reuters) – The New York Times Co (N:NYT) on Wednesday reported a better-than-expected quarterly profit, as it signed up more advertisers and subscribers for its digital publications, helping offset a slide in print sales.
The company added about 154,000 subscribers to various websites, including the digital version of the New York Times, boosting its online subscribers base to 2.5 million.
Digital advertising revenue rose 11 percent to $49.2 million in the third quarter, accounting for about 43 percent of its total advertising revenue.
The newspaper publisher has been attracting more paying online readers through discounts and has been boosting digital subscriptions by tying up with online services such as Spotify.
The Times' Truth campaign, which was launched in response to President Donald Trump's attacks on the newspaper, has also helped drive subscriptions.
Major newspapers have been building on their online readership since the 2016 presidential election, as they market their unbiased reporting as a sales strategy.
The paper's print advertising revenue fell 20.1 percent to $64.4 million.
Net income attributable to the company rose to $32.3 million in the quarter ended Sept. 24 from $406,000 a year earlier. On a per-share basis it earned 20 cents per share, compared with break-even last year.
Excluding items, earnings were 13 cents per share from continuing operations, beating analysts' average estimate of 8 cents per share, according to Thomson Reuters I/B/E/S.
Revenue rose 6.1 percent to $385.6 million. Analysts on average had expected $389 million.
Up to Tuesday's close shares of the company rose 42.9 percent to $19.01 year-to-date.
The company's shares were largely flat at $19 in morning trading.
sponsoredArticle = 'div-gpt-ad-1466339494851-0';