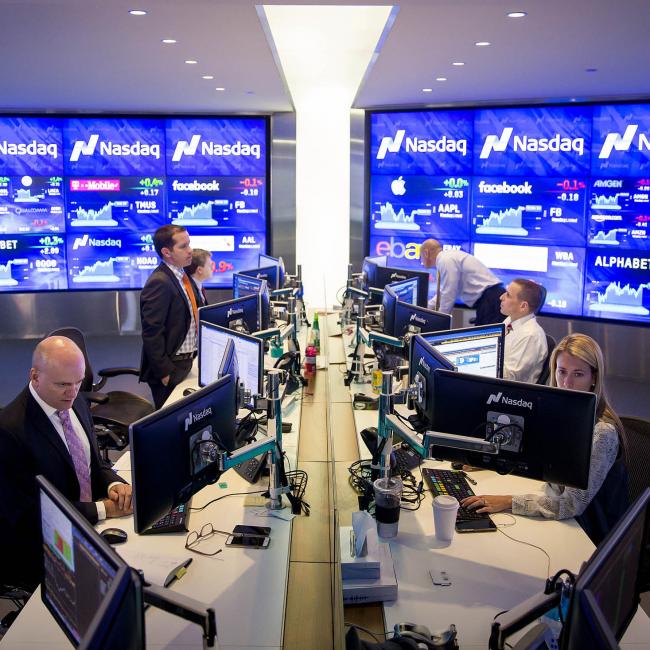 © Bloomberg. Analysts monitor data at the Market Intelligence Desk (MID) inside the Nasdaq MarketSite in New York, U.S., on Thursday, Aug. 18, 2016. U.S. stocks fluctuated as investors weighed near-record equity levels, and indications an uncertain economic outlook leaves policy makers with little reason to raise interest rates.
(Bloomberg) — Nasdaq Inc. won its first deal to help power a bank's currency trading, its latest attempt to branch out from its original business of running a famous stock exchange.
Nasdaq Inc (NASDAQ:NDAQ) didn't identify the new customer beyond calling it a "Tier 1 bank," according to a statement Wednesday. The bank will use Nasdaq's matching technology, the software that pairs up buyers and sellers.
More than 100 clients use that Nasdaq technology, including exchanges in Hong Kong, Japan, Turkey and Colombia. This is the first time a bank is using it for foreign exchange, but it's not Nasdaq's only technology deal with a bank. When Goldman Sachs Group Inc (NYSE:GS). recently revamped its dark pool, dubbed Sigma X-Squared, it turned to Nasdaq.
"One thing we always say about our market technology is we can trade and clear and now settle any asset class on the planet," Nasdaq Chief Executive Officer Adena Friedman said during a phone interview Wednesday.
Old school banks are seeking help to keep up with fast-paced modern markets. For instance, JPMorgan Chase & Co (NYSE:JPM). struck a deal last year with high-speed trader Virtu Financial Inc. for Treasuries trading technology.
The New Wall Street: Even Big Banks Want Help Navigating Markets
Nasdaq's market technology division brought in 13 percent of the company's total third-quarter net revenue. It's still dwarfed by its business of running markets in equity and fixed income and clearing trades, which hauled in 36 percent of net revenue.
Nasdaq also reported third-quarter adjusted earnings of $1.06 a share on Wednesday, beating the average analyst estimate of $1.02 a share. Net revenue was up 4 percent from the same period a year earlier. Shares of the company fell 1.1 percent at 11:12 a.m. in New York.
sponsoredArticle = 'div-gpt-ad-1466339494851-0';